Wear Resistant Plastic Refractory, it is made by combining granular refractory aggregates, powdered materials, plastic clay, and other binders and speed-increasing agents. By adding a small amount of water, a hard clay paste is formed after thorough mixing and maintains high plasticity for a long time. In the Wear Resistant Plastic Refractory, it is the same as the aggregate of the refractory castable, but just the binder is different. The binder of the wear-resistant refractory plastic is raw clay. Rongsheng refractory castable cement material manufacturer, fully automatic unshaped refractory material production line provides customers with high-quality Wear Resistant Plastic Refractory. Quickly get prices by email.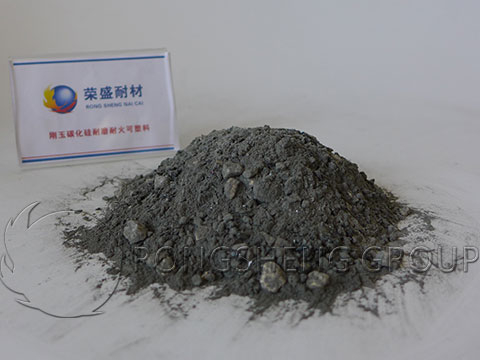 Introduction of Wear Resistant Plastic Refractory
Because the Wear Resistant Plastic Refractory contains a certain amount of clay and moisture, they tend to shrink during drying and heating. For example, the drying shrinkage of plastic refractory without a shrink-proofing agent is about 4%, and the total shrinkage generated at 1100-1350℃ can reach about 7%. Therefore, volume stability is an important technical indicator of refractory plastics. The thermal shock resistance of the Wear Resistant Plastic Refractory is higher than other monolithic refractories of the same material.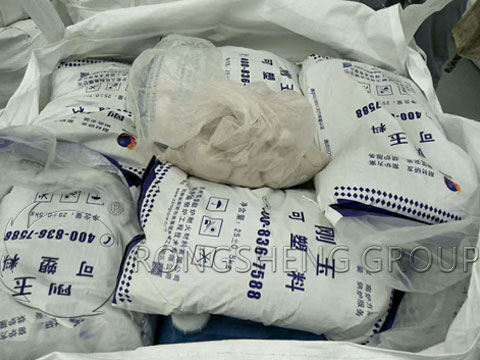 The difference between wear-resistant plastic refractory and wear-resistant refractory castable
Wear-resistant castables and wear-resistant plastic refractory are not only different in name. They are not the same in the combination method, use the method, construction thickness, application part, and oven-drying method.
Wear-resistant castables are combined with pure calcium aluminate cement. When adding water, use pouring, and vibration methods. Wear-resistant castables are resistant to penetration, erosion, impact, and abrasion. The construction thickness is 200mm, and the minimum thickness cannot be less than 100mm. It can be used in boilers and other thermal kilns, front and back arches, rear furnace walls, and other parts.
The refractory plastic is combined with phosphoric acid. Strong plasticity, use a tamping method to construct, construction thickness can not exceed 100mm, generally 50-80mm. Used in boilers, electric furnaces, furnace roofs, and high-temperature furnaces.
Refractory plastic, due to its good plasticity, is generally used for kiln repair and filling. Wear-resistant castables are generally used in areas with severe wear as lining materials.
The wear-resistant refractory castable is mixed with water and can be used as a mixed mud for construction by casting method. After pouring and molding, it can be demoulded after 24 hours of curing. After demoulding, it can be put into use after a reasonable time of curing and baking. Refractory plastics are combined with phosphoric acid binders. After more than ten hours of trapping time, they are constructed by tamping.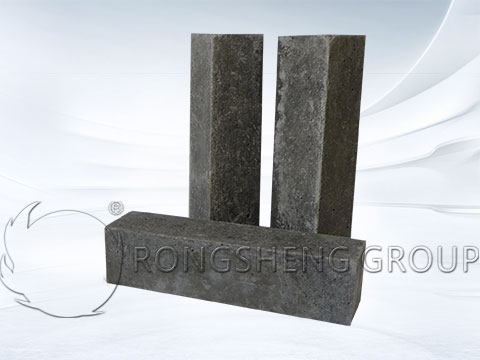 Wear Resistant Plastic Refractory Construction
When making the furnace lining, spread the Wear Resistant Plastic Refractory between the hanging bricks or hooks, and use a wooden hammer or an air hammer to tamping layer by layer, each layer is 50-70mm thick. If the integral furnace cover is made of plastic refractory, it can be constructed on the bottom mold first, and then hoisted after drying.
Construction requirements for Wear Resistant Plastic Refractory
(1) Before construction, ensure that the construction site is clean. If fire-resistant plastic is used for repair work, the adhesive should be painted appropriately.
(2) Vibrate the material evenly. If the construction site has a large depth, it should be poured or filled in layers from bottom to top. After each layer is completed, it needs to be vibrated and compacted to ensure that there is no cavity inside. This is because the cavities often exhibit severe over-temperature during operation. After the material has initially set, use a small hammer or hard object to perform a comprehensive knock test. The sound is dull, and it is compacted and qualified. If the sound is loud and accompanied by sustained sound, it means that there is a cavity inside. The outer rigid board of the corresponding part should be cut off, and the cavity part should be refilled.
(3) If the construction area is small, it is advisable to use manual repairs to repair. Before repairing, check carefully whether it is necessary to add welding and grab nails. If the repaired area is large, castable should be filled. After construction, the surface should be flat and smooth, and the dimensions should meet the requirements of the drawings.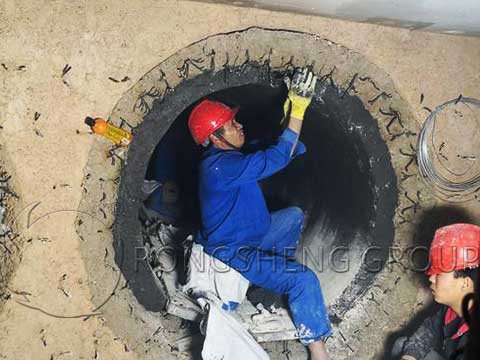 Wear Resistant Plastic Refractory's Oven-drying
The maintenance and baking of the Wear Resistant Plastic Refractory directly affect the performance of the boiler during operation. After construction, the material contains a large amount of moisture, and during the heating process, steam is continuously precipitated and accumulated. If the steam is released too much or too quickly, the material will bulge, crack, or even fall off. Secondly, if the oven temperature and duration are not enough, residual moisture is likely to exist, and the material will also crack and fall off during operation. Therefore, the baking of wear-resistant refractories is an important task after construction.
If the repaired area is small, a baking gun can be used for baking, and the temperature should be properly controlled during the baking process. If the construction period is long, it can also be air-dried naturally, and it is often appropriate to exceed 72 hours. Before starting the furnace, check whether the wear-resistant refractory material is cracked.
If a large area in the furnace is replaced and constructed, a special oven plan should be developed. The reference process is as follows:
(1) Start Oven-drying
Start the small flow gun of the ignition duct burner. First, put it into operation with low oil pressure and small oil volume. After stabilization, gradually increase the oil supply, and strictly follow the temperature rise curve for heating and heat preservation.
Start the large oil gun of the air duct burner. Put into operation with low oil pressure, small oil volume, and low smoke temperature. After the combustion is stable, gradually increase the amount of oil, and strictly follow the temperature rise curve for heating and heat preservation.
(2) Arrange two oil guns for the ignition air duct, one large (1.2t/h), and one small (0.8t/h) on each side.
(3) Oven-drying Curve
At a temperature rise rate of ≤20℃/h, the temperature is increased to 130±20℃, and the temperature is kept constant for 12 hours;
At a temperature rise rate of ≤20℃/h, the temperature is increased to 230±50℃, and the temperature is kept constant for 12 hours;
Cooling at a cooling rate of ≤30℃/h;
After cooling down to 80℃, open the manhole door to cool down;
After the oven is finished, remove the bracket and partition wall in the oven. Clean the inside of the furnace.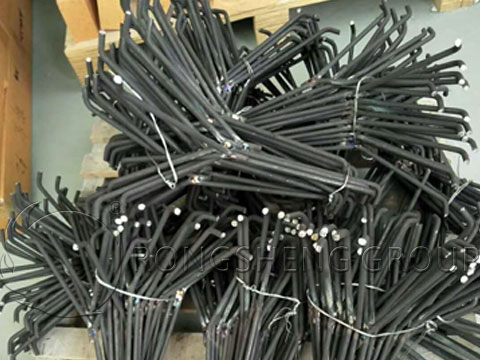 Construction Requirements for Grabbing and Heat-resistant Steel Bars
Before the Wear Resistant Plastic Refractory can be constructed, the anchors need to be welded. The anchors often used in construction are grabbed nails and heat-resistant steel bars. Rongsheng refractories manufacturers can provide "Y" type nails and "V" type nails. The lower part of the hanging screen in the furnace, special parts (for example, pipe parts, deformed parts, and material flow change parts, etc.), severely worn parts, etc. are generally equipped with 6mm "V" nails for fixing. It should be pointed out that the original tube screen generally uses 10mm pins. However, during the actual maintenance, we found that the pins are easy to fall off during the construction process, and the falling pins will take away the tube wall tissue, causing the tube wall to become fused or even damaged. In order to reduce risks and improve safety, we basically use "V"-shaped nails to weld the fins during the construction process. After a large number of operating practices, this method is more safe and reliable. Before welding, it is strictly forbidden to substitute and misuse the type of gripper and strictly control the spacing. Rongsheng manufacturer's 6mm "V" type nails are generally controlled at 70-100mm, and 350mm "Y" type nails are generally controlled at 150-200mm.
Application of Wear Resistant Plastic Refractory
Rongsheng Wear Resistant Plastic Refractory materials are suitable for various heating furnaces, soaking furnaces, and heat treatment furnaces. The furnace made of Wear Resistant Plastic Refractory has good sealing performance, low thermal conductivity, low heat loss, and good thermal shock resistance. The furnace body is not easy to peel off, high-temperature resistance, and good corrosion resistance. Features such as longer furnace life. At present, the domestic Wear Resistant Plastic Refractory has achieved satisfactory results in the wrapping of furnace bottom water pipes, heating furnace roof, burner bricks, soaking furnace doors, and flue vaults.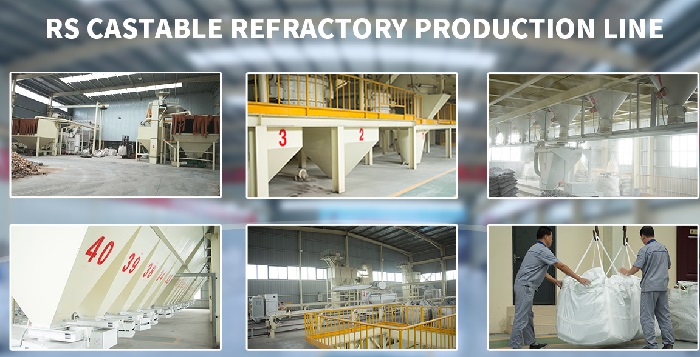 Contact Rongsheng Manufacturer
Rongsheng Refractory Manufacturer
Rongsheng is an experienced refractory manufacturer. Rongsheng's refractory products have been sold to more than 60 countries and regions all over the world. For example, Malaysia, South Africa, India, Indonesia, Pakistan, Netherlands, Kuwait, Kenya, Russia, United States, Philippines, Vietnam, etc. Rongsheng's fully automatic unshaped refractory production line has an annual output of 80,000 tons. Not only can it efficiently fulfill the customer's product requirements, but also Rongsheng's customer service is also satisfactory. Buy high-quality unshaped refractory materials, refractory castables, refractory plastics, wear-resistant refractory plastics, refractory mortar, refractory ramming materials. Please leave your specific needs on our page.