Clay castable is a kind of monolithic refractory, which is made of refractory aggregate, clay material, and additives. The amount of clay castable is usually over 40%, and the amount of Fe2O3 is less than 2.0% to 2.5%. As one of the refractory castable, the clay refractory castable is usually cast into the lining body or made into precast blocks with the method of casting and jolt ramming. Rongsheng Kiln Refractory Material Co., Ltd provides high-quality clay castable at a low price!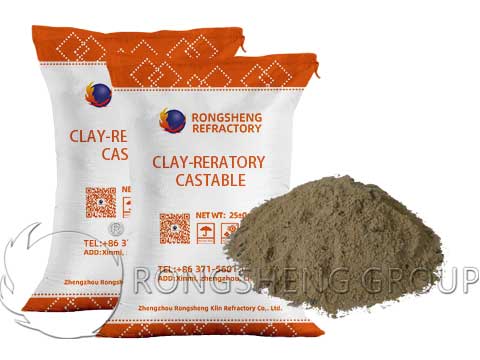 Description of Clay Castable
Clay castable refractory possesses sound performance due to its composition materials. As for the component materials, it takes bauxite and calcined flint clay as refractory aggregate adding some other additives to make clay refractory castable. The clay castable refractory has high bulk density and sound high-temperature performance and thermal shock stability. In addition, it has good wear resistance performance. Therefore, this kind of monolithic refractory material is usually applied to the lining of various neutral industry furnaces and kilns.
Technical Parameters of Clay Castable
Item
Clay Castable
Al2O3%≥
40
Refractory Temperature℃≥
1730℃
Bulk Density g/cm3≥
2.2
Liner Dimensional Change
±0.5
Cold Crushing Strength Mpa≥
110℃×24h
30
1400℃×3h
65
Clay Bonded Castable Refractory Materials
Clay bonded castable refractory is made of some kind of refractory aggregate as the main composition materials and plastic clay as binding agent materials. There are some common types such as the clay castable refractory, high alumina castable, corundum mullite castable refractory, and high alumina lightweight castable refractory, which is classified according to the types of aggregate. And according to the performances and features of the clay bonded castable refractory, there are ordinary clay castable and high strength clay bonded castable refractory materials.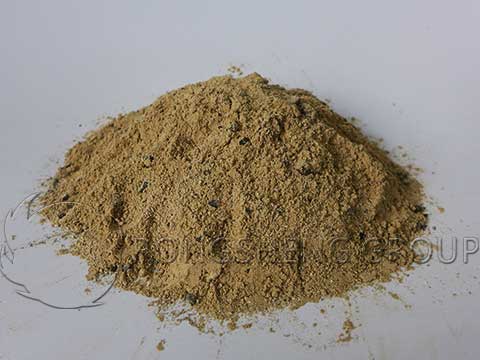 Compared with the cement-bonded castable refractory, the clay bonded castable refractory has the characteristics of moderate temperature strength, thermal strength, high volume stability under high temperature, and strong anti-spalling performance. Therefore, it is widely applied to the heating furnace for steel rolling, soaking furnace, torpedo car, and so on.
Clay Bonded High Alumina Castable Refractory
The clay bonded high alumina castable refractory has is made of high alumina aggregate as the main composition and clay as the binding agent. As one of the monolithic refractories, it is widely applied to the furnace wall and hearth of the heating furnaces, soaking furnaces, and other heat treatment equipment.
As for the advantages, there is much to say. First of all, as the unshaped refractory, it is easy to construct. What's more, it can be applied to harsh conditions and save energy and manpower. In addition, it has sound overall structure performance which is good for the service life of the furnace lining.
Technical Parameters of the Clay Bonded High Alumina Castable Refractory
Item
WX-NT1
WX-NT2
WX-NT3
Chemical Composition%
Al2O3≥
55
50
45
Fe2O3≤
2.0
2.5
2.5
Bulk Density g/cm3
2.25
2.22
2.18
Breaking Strength Mpa
110℃×24h
3.8
3.5
3.0
1100℃×3h
6.0
5.5
5.0
Crushing Strength Mpa
110℃×24h
29
26
24
1100℃×3h
50
45
40
Liner Dimensional Change% (1100℃×3h)
±1.0
±1.0
±1.0
Service Temperature℃
1300
1300
1300
Where to Buy Clay Castable Refractory
Clay castable refractory is widely used in the industry field due to its sound refractory performance and unshaped features. Therefore, there are many refractory manufacturers and suppliers. It's very important to choose a trustful refractory manufacturer. Rongsheng Kiln Refractory Co, Ltd is a professional monolithic refractory manufacturer with over two decades development history and advanced technology, and excellent personnel. It produces many kinds of monolithic refractory such as high alumina refractory castable, various refractory cement and concrete and some other refractory products.
If you want to buy high-quality refractory castable, please contact us.  Leave your inquiry below and get the lowest price!