Acid-resistant castables are divided into dense, semi-light, and light, and their main function is to be used for furnace linings resistant to acid corrosion. Acid-proof castables are generally combined with acid-resistant cement and are applicable to acid-resistant chimneys and liquid sulfur tank linings in the petrochemical industry.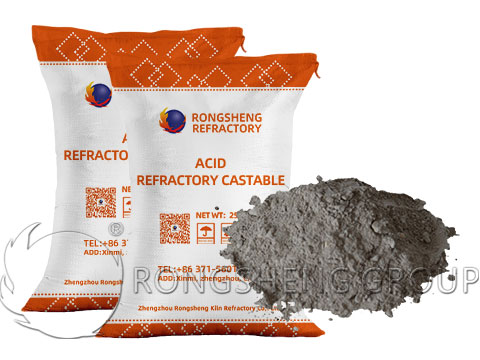 Acid-Resistant Refractory Castable Used in Acid-Resistant Atmosphere Furnace Lining
Other refractory castables of this kind of castable are also different, and they belong to an acidic medium. During production, it is also raw material processing granules and fine powder in an acidic medium, adding a certain proportion of ultra-fine powder and additives. However, this castable cannot be used in an atmosphere with a large temperature difference, and it cannot be used for construction in a place that is too humid. If the temperature is not suitable, it will reduce the later use strength and acid resistance of the acid-resistant castable, and it will peel off.
For example, acid-resistant castables for chimneys are generally semi-light, which can not only keep warm but also resist erosion and acid gas erosion. Because the semi-lightweight acid-resistant castable can save energy. Improve the operating rate and service life of the chimney, and at the same time, the weight of the chimney body will not be too heavy.
The acid-resistant refractory castables are all used in the lining of the acid-resistant atmosphere, and cannot be used in the neutral or alkaline lining atmosphere. Because the high-temperature resistance of this castable is not as good as the high-alumina series castables used in neutral atmospheres. The use of Castables that are not as good as the magnesium series in alkaline atmospheres are mainly used in chimneys, flues, and nitric acid pus tower linings in acidic atmospheres, as well as container linings for acidic gases. The high-temperature resistance of acidic materials is not as good as that of the high aluminum series and magnesium series.
However, acid-resistant castables can be used as a separate lining material. Used in a furnace with a consistent atmosphere will play the role of acid resistance of the castable itself, and cannot be used as a furnace lining for other atmospheres. The first is high-temperature resistance, and then there is a gap in the effect of corrosion resistance in other atmospheres.
That is to say, acid-resistant castables, whether heavy, semi-light, or light, can only be used as a lining for acid gas.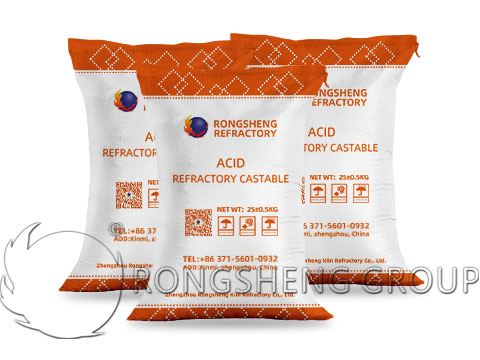 Characteristics and Configuration Methods of Acid-Resistant Castables
Acid-resistant castable is a castable refractory material prepared with water glass as a binder, acid-resistant refractory aggregate, powder, and admixture. Acid-resistant castables have higher binder and moisture content and better fluidity, so monolithic refractory materials have a wider range of applications. Specifically, the materials and binders used can be selected according to the conditions of use. It can be directly poured into a lining body, and can also be used as a prefabricated block by pouring or shaking.
The products of acid-resistant castables are inseparable from the environment and pigments, so you must pay attention to these when using acid-resistant castables. Many customers know what castables are, but in terms of subdivision, they don't know much about acid-resistant castables, nor do they know what the composition ratio of acid-resistant castables is.
The composition ratio of the acid-resistant castable is acid-resistant refractory aggregate 60%-75%, powder 25%-30%, and water glass 13%-16%. The general classification standard of acid-resistant castables is to classify according to the actual use situation, use temperature, and functional characteristics. The main varieties of acid-resistant castables produced by Rongsheng manufacturers include ordinary calcium aluminate cement, pure calcium aluminate cement, and Portland cement. The basic technical characteristics of acid-resistant castables are similar to those of general water glass refractory castables. The products of acid-resistant castables are inseparable from the use environment, which is directly related to the quality of acid-resistant castables. Acid-resistant castables are very picky about the construction environment. When we use acid-resistant castables, the construction temperature must be properly controlled. Too high or too low temperature will be harmful to the castable, and the use environment will also affect the corrosion resistance of the castable.
Because acid-resistant castables have excellent anti-corrosion properties, acid-resistant castables can not only meet the anti-corrosion requirements in corrosive environments but also meet the performance fatigue requirements of alternating performance. Acid-resistant castables can survive in extremely harsh environments for a long time. The shrinkage rate, hardness, toughness, wear resistance, and high-temperature resistance of the acid-resistant castable itself have laid a solid foundation for its long-life use in harsh environments. In terms of acid resistance, the acid resistance of aggregate and powder is mainly considered. Factors such as the acid resistance after being formulated into an acid-resistant castable and the change in the strength of the castable after pickling. Acid-resistant castables are easy to harden and can be hardened by hydration at room temperature. For example, soaking in different concentrations of the sulfuric acid solution, as the concentration of the acid solution increases, the strength of the castable also increases. It has good strength stability when soaked in concentrated acid. The strength not only does not decrease after soaking but increases slightly with the extension of soaking time.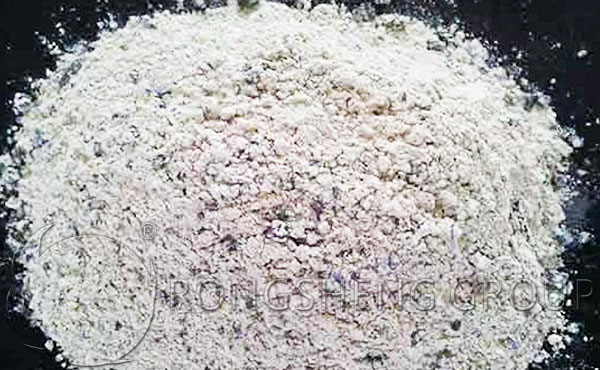 Advantages and Construction Precautions of Lightweight Heat-Insulating and Acid-Resistant Castables
Lightweight heat-insulating and acid-resistant castables have the advantages of light volume, strong compression resistance, high acid corrosion resistance, and low water absorption. Fully play the role of heat preservation. It can ensure the compactness of the masonry especially when it is used in the parts with serious acid corrosion. It is an ideal refractory material for a high chimney, high-temperature flue, and pipelining.
Lightweight heat-insulating and acid-resistant castables are easy to construct and have strong cohesive force. The initial setting time and construction operation time are long, and the strength increases rapidly, the impermeability is strong, no acid treatment is required, and it is easy to ensure the denseness and fullness of the masonry mortar joints. It can significantly improve the airtightness and integrity of the chimney lining wall and the acid corrosion resistance of the lining.
When the lightweight heat-insulating and acid-resistant castable is used, it can be dry-mixed and then wet-mixed with water. The amount of water added to acid-resistant castables also needs to be strictly controlled. The amount of water added is directly related to the performance and strength of the castable. Therefore, attention must be paid during construction, and the mixed water must be added according to the amount of water added in the construction instructions.
Lightweight heat-insulating and acid-resistant castables can be used as acid-resistant castables and refractory castables without heat insulation. The main component of the lightweight acid-resistant castable binder is water glass. However, some require different parts to be used, and they are also combined with phosphoric acid, and the acid-resistant castables combined with phosphoric acid have low calcium content.
Due to the large porosity of the lightweight aggregate structure, rough surface, and particle size of about 5mm, the water absorption and hygroscopicity of the aggregate and powder are large. Therefore, according to the mixing ratio, the fluidity is poor after stirring, the thermal conductivity is small, and the linear expansion coefficient is small. It can also be used as filling material in the lining of a blast furnace.
Lightweight acid-resistant castables must be protected from moisture. Rongsheng monolithic refractory manufacturers will mix the aggregate and powder into a mixture before leaving the factory, and pack it in a woven bag before transportation. For temporary storage, it should be stored in a dry warehouse with good drainage and moisture-proof.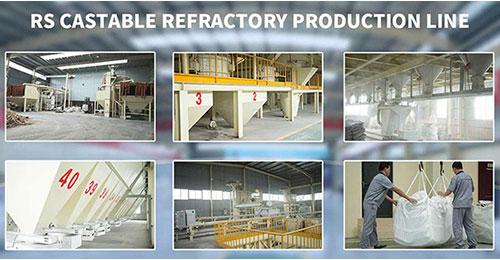 High-Quality Monolithic Refractory Manufacturers
Rongsheng Refractory Material Manufacturer is a refractory material manufacturer with rich production and sales experience. Our environmentally friendly fully automatic monolithic refractory production line has an annual output of tons. Specially provide solutions for refractory lining materials for various high-temperature industrial furnaces. We can not only provide various monolithic refractory castable products but also provide turnkey projects of refractory lining. Various refractory precast shapes. Contact us for free samples and quotes.