The working layer at the bottom of the electric furnace is in direct contact with molten steel and slag, and is subject to high-temperature heat loads and erosion by molten slag. The erosion of molten steel, mechanical impact of scrap steel, and oxidation and reduction operations at high temperatures in the furnace will all lead to erosion and thinning of the furnace bottom. Therefore, the choice of ramming material for the working layer of the furnace bottom will have a great impact on the service life of the refractory lining of the furnace bottom working layer.
When the furnace bottom is operating, the dicalcium silicate in the slag absorbs moisture in the atmosphere and collapses. The durability of eroded ramming material is reduced and its service life is shortened. Therefore, the refractory material selected for the furnace bottom must be sufficient to resist the mechanical impact of the charge. At the same time, it must have suitable expansion performance. Its expansion and contraction will not produce excessive cracks to reduce the intrusion of molten steel and steel slag.
Excessive shrinkage will cause local floating. The natural bulk density and post-fired density of the ramming material can avoid uneven density caused by construction and sintering. It also has high resistance to penetration of molten steel and steel slag.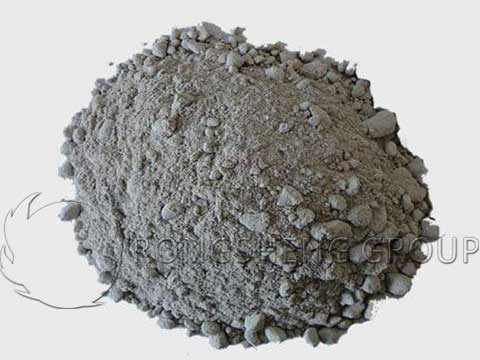 It is a ramming material with strong resistance to erosion by molten steel and steel slag, low erosion rate, uniform erosion, and long service life. The furnace bottom hot surface and the furnace bottom ramming material must have a strong affinity to ensure the repair effect. The working layer of high-power and ultra-high-power electric furnaces is generally constructed with magnesia dry ramming material. It is made of synthetic magnesia and fused magnesia as a fine powder, with a critical particle size of 5mm, without adding any binder and using multi-stage ingredients.
Through strong ramming construction, the density and thickness after construction are guaranteed. It can be sintered into a solid whole at the appropriate temperature, and its lifespan will be improved several times by knotting and bricklaying methods. If hot repair is used in time during use, the service life can be extended to 800-1400 heats. Not only the number of furnace shutdowns is reduced, but the consumption of ramming materials per ton of steel is significantly reduced.
Technical Characteristics That Electric Furnace Bottom Refractory Ramming Materials Should Have
The bottom of the electric furnace is built with ramming materials, mainly magnesia-calcium dry ramming materials. It has ceramic bonding, low silicon, high calcium, a moderate amount of iron, and many fine powders. It has a thin sintering layer, dense sintering, high density, and high thermal strength. Good resistance to molten steel penetration and volume stability. For different furnace masonry, the thickness of the furnace slope ramming material and the thickness of the furnace bottom ramming material are different. During construction, materials should be laid in layers, each layer being 150mm. Tread it firmly with your feet, poke it with a steel drill to facilitate exhaust, and finally vibrate it with a special vibrator.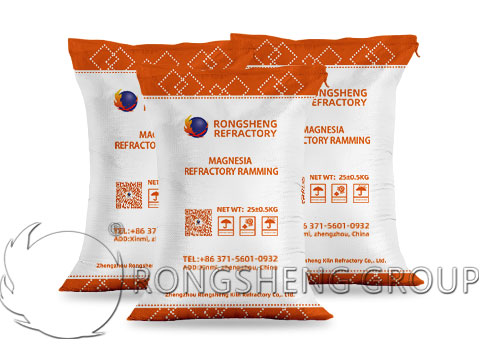 The ideal electric furnace bottom refractory ramming material should generally have the following technical characteristics:
(1) Rapid sintering to form a solid working layer.
(2) Use medium and low melt cementing phase to transform into high melting point phase.
(3) Prevent molten penetration to the greatest extent and maintain appropriate looseness of deep-seated materials.
There are also electric furnace manufacturers that convert steel parts and iron parts for use. If the electric furnace burns iron parts, then acidic ramming material should be used at the bottom of the furnace. It uses fused quartz and some other auxiliary materials as raw materials. The price is much different from that of magnesia or neutral furnace bottom ramming materials, but it is suitable for use when sintering iron parts. The choice of neutral ramming material, magnesia ramming material, or acidic ramming material for the furnace bottom is selected according to the different sintering conditions of the furnace lining. If it is burned iron parts, neither neutral nor magnesia ramming materials are suitable. If it is burned steel parts, acidic ramming materials will basically not be used.
Rongsheng Refractory Castable Material Manufacturer
Rongsheng unshaped refractory material manufacturer is a powerful refractory material manufacturer. Our environmentally friendly monolithic refractory production line has an annual capacity of tons and provides refractory services to the world. In addition, our new factory mainly produces various refractory precast shapes. In order to better serve high-temperature industrial furnaces, Rongsheng Refractory Materials Manufacturer is constantly improving our service content and service quality. To operate high-temperature industrial furnaces efficiently, contact us for free refractory solutions.