Dolomite aggregate is a kind of refractory aggregate which is made of dolomite. It can be made into refractory such as dolomite aggregate concrete. Dolomite is carbonate mineral which takes the form of rhombohedral. The color of dolomite aggregate is usually white. Due to dolomite aggregate properties, dolomite is mainly used in making basic refractory, flux for blast furnace iron-making and the ingredients for glass and ceramics. The monolithic refractory material made of dolomite aggregate is widely used in metallurgy industry, power industry, petroleum industry, chemical industry, construction industry and other industries. And dolomite aggregate can be classified into various types such as dolomite coarse aggregate.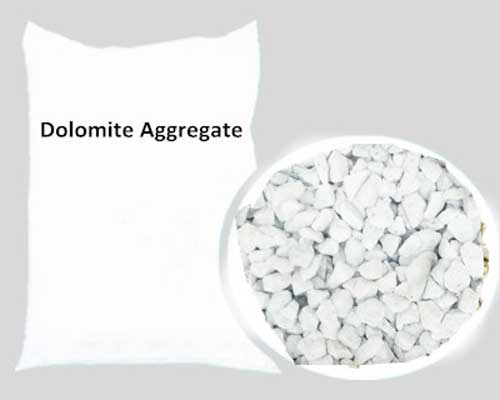 Description of Dolomite
Since dolomite is the raw material of dolomite aggregate, here the description of dolomite may be helpful for you to have a further understanding of dolomite aggregate.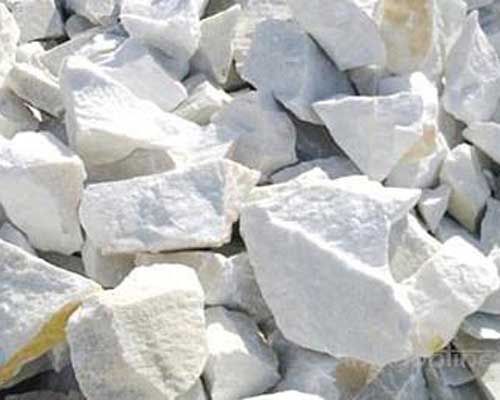 Dolomite is carbonate mineral which is usually white without any dyestuff, poison or smell. It has several features such as corrosion resistance, acid and alkali resistance, anti-exposure and non-staining. The crystal structure of dolomite is like calcite which takes the form of rhombohedra. Dolomite is insoluble in water.
Dolomite would be turn into different materials with different burning temperature. For instance, when the temperature is 700 to 900℃, the dolomite can be burnt into the mixture of calcium oxide and magnesium oxide. When the sintering temperature is improved to 1500℃, the magnesium oxide is burnt into periclase and calcium oxide into crystalline form which is dense in structure with refractory temperature of 1300 to 1600℃.
As for the application of dolomite, it can be used in the field of construction, ceramic, glass, refractory material, chemical and industry, agriculture, the protection of environment and energy-saving.
Manufacturing Process of Dolomite Aggregate
There are several steps to manufacture dolomite aggregate. First of all, the raw material is smashed into particles. And second, the particles are severed. Then the materials gets selected twice, which is roughly selecting and meticulously selecting. After these selecting, different dolomite with different granularity is separately. And next, winnow process is carry out to conduct further manufacturing. At last, dust-collecting process is made. This is the general manufacturing process. However, there are some specific steps that the dolomite manufacturers may take to meet the various demand of the customers.
Technical Parameters of Sintered Dolomite
Item
Ca%
Mg%
Si%
Fe%
SO2%
C%
Amount
35~52
26~34
0.92~2.33
<0.03
<0..01
<0.01
Performance
Sound refractoriness and thermal insulation
Application
Applied for the coating of interior and exterior wall and the ingredient of cement, glass.
Where to Buy Dolomite Aggregate
Dolomite aggregate has so many good performances, therefore its market is broad. However, different manufacturers can provide dolomite aggregate with various quality. Customers may be confused to choose manufacturers. Therefore, customers should be careful in choosing manufacturers. Here is one method that will be helpful. Customers should choose manufacturers with large producing scale and good public praise.
Rongsheng Kiln refractory Co, Ltd is a comprehensive enterprise which has over two decades of selling refractory. Rongsheng has professional producing line, advanced technology. It has exported its products to many countries such as UK, Australia, South Africa and so on. And it has gained much public praise from our customers. Rongsheng is a good choice for customers to buy dolomite aggregate.
If you want to buy dolomite aggregate, please contact us. We will reply you within 12 hours.