Refractory mortar, refractory cement, and refractory castables are all monolithic refractories, and they are commonly used in the refractory industry. So, what are the differences between these three different monolithic refractories? Simply put, refractory mortar is used for masonry refractory bricks. Therefore, refractory mortar is also known as refractory mortar or joint compound. Refractory cement is one of the materials for making refractory concrete and is generally used as a binder. Refractory castables are sometimes referred to as refractory concrete. It is made of refractory aggregates, powders, and binders, and is also called refractory castables because of its pouring construction.
The Difference Between Three Different Amorphous Refractories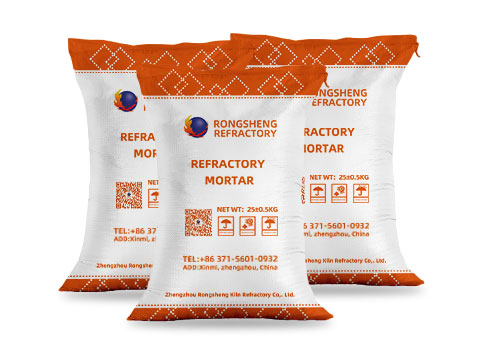 Refractory Mortar
Refractory mortar can be divided into fireclay, high alumina, silica, and magnesia refractory mortar according to the material. It is composed of refractory powder, binder, and admixture. The general refractory mortar is made of refractory clinker powder and an appropriate amount of plastic clay as a binder and plasticizer. Its normal temperature strength is low, and it has high strength only when it constitutes a ceramic bond at a high temperature. The particle size of refractory mortar varies according to the application requirements, and its limit particle size is generally less than 1mm, and some are less than 0.5mm or finer.
The material of refractory mortar should be considered together with the material of masonry refractory products. In addition to being used as a joint material, refractory mortar can also be used as a maintenance coating for the lining body by the modification method or the spray method.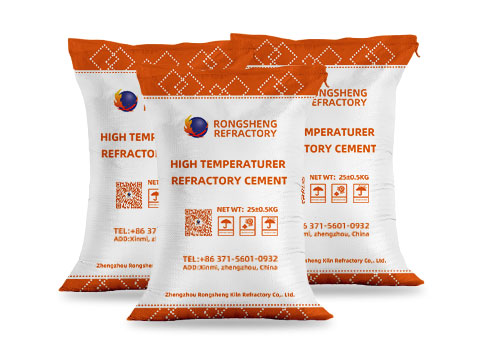 Refractory Cement
Refractory cement is also called aluminate cement. Aluminate cement is a hydraulic cementitious material obtained by calcining bauxite and limestone as raw materials, clinker with calcium aluminate as the main component and alumina content of about 50%, and then grinding. Aluminate cement is often yellow or brown, but also gray. For the lining of industrial kilns.
What is refractory concrete? What is refractory concrete composed of? Refractory concrete is composed of refractory aggregate, refractory powder, and cement or admixture in a certain proportion. After stirring (the cement should be mixed with appropriate water), molding and curing, it can be used directly. Generally, it is also called refractory castable.
Refractory castable is a kind of monolithic refractory that is widely produced and used. It is mainly used to construct the overall structure such as the lining of various heating furnaces. Certain high-quality varieties can also be used in smelting furnaces. For example, aluminate cement refractory castables can be widely used in various heating furnaces and other thermal equipment without slag and acid and alkali corrosion. The parts that are corroded by molten iron, molten steel, and slag have a high working temperature, such as tapping groove, ladle and blast furnace shaft, tapping ditch, etc. In some parts of metallurgical furnaces and other vessels that are in direct contact with slag and molten metal, repairing with high-quality phosphate refractory castables also has excellent results.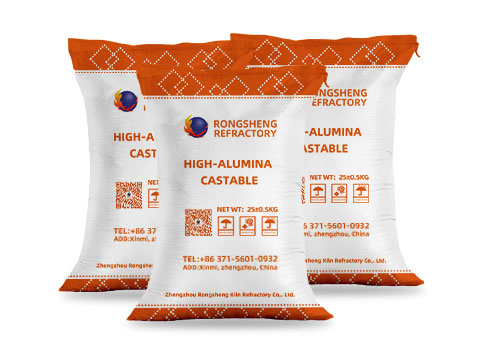 Refractory concrete can generally be divided into two categories, shaped refractory products, and bulk refractory materials.
Shaped refractory products. Including prefabricated components, prefabricated blocks (unit weight less than 30 kg), and unburned bricks produced by vibration, machine pressing, ramming, and vibration pressing. Such products are generally factory-produced, with stable quality, regular size, and less template consumption.
Bulk refractory materials. Including refractory aggregate, refractory powder, cement, etc., as well as the mixture of the above-mentioned several raw materials in proportion, and leaves the factory in bulk form. During construction, appropriate water or liquid binder should be added to the bulk material, which can be formed by any method.
An important feature of refractory concrete is that it does not require pre-calcination, and can be used to directly build a furnace, or it can be assembled with prefabricated components and used after baking. Therefore, refractory concrete has many advantages over fired refractory bricks.
Advantages of Refractory Concrete
The production process of refractory castable concrete is simple, usually, only construction equipment such as concrete mixers and vibrators are used, and there is no need for huge brick presses and firing equipment. Therefore, the construction of refractory concrete plants requires less investment, a quick start, and great results. And it can save a lot of fuel and electricity, the production cycle is short, and the production efficiency is high.
The refractory concrete is easy to construct and manufacture, can be arbitrarily shaped and can meet the various requirements of production for thermal equipment. Some special parts of thermal equipment are difficult to be made of fired bricks, and refractory concrete can be used. In addition, refractory concrete can be made into a composite lining that is light and heavy. This reduces the thickness and reduces the overall weight of the kiln. It not only saves materials and fuel but also uses less steel. Refractory concrete can also be equipped with a small number of steel bars, which are both used as linings and load-bearing. The steel envelope can be partially or completely removed.
In addition to the commonly used vibration molding process, refractory concrete can also be constructed by various process methods such as spraying, ramming, or machine pressing according to engineering characteristics and production needs. Suitable for new construction, renovation, and hot and cold repair of furnaces and thermal equipment. Especially when using prefabricated components and spraying, the furnace construction can be mechanized, greatly shortening the construction period and speeding up production and construction. In the process of kiln and thermal equipment production, the damaged prefabricated components can be replaced without stopping, and the furnace lining can be thermally repaired by spraying a new process, thereby improving the operation rate of the kiln.
Kilns and thermal equipment made of refractory concrete have strong integrity and good airtightness. The reasonable application can increase its service life by 30~150%, and some are as high as 8~5 times. This not only improves the operation rate but also reduces the consumption of refractory materials and saves the cost of building the furnace.
The raw materials used in refractory concrete, in addition to the raw materials for making bricks, can also use some industrial slag, waste refractory bricks, and local or natural materials. That is to say, it uses a wide range of materials, which is convenient for comprehensive utilization of resources, and opens up a broadway for the refractory industry.
The production and construction of refractory concrete furnaces have good working conditions, low labor intensity, and high efficiency. Furnace builders can get rid of the tile knife, creating conditions for the realization of mechanized furnace construction.
From the above, we can see that although the three products are all monolithic refractories, their uses are quite different. And each product is divided into different models and types. Therefore, when purchasing, you can consult professional technicians and choose suitable products, so as not to delay the construction period and cause unnecessary losses.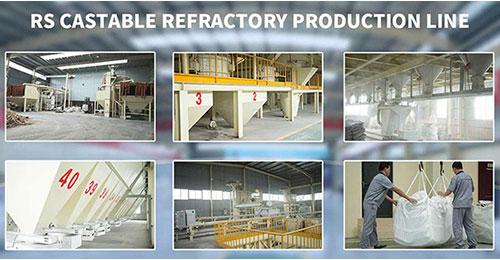 Buy Monolithic Refractory
In a word, the development and adoption of new refractory concrete materials can promote the technological innovation of refractory production and kiln structure, save fuel, power, financial resources, and manpower, and realize mechanization of production and construction. Achieve the purpose of prolonging the life of the kiln, reducing the consumption of materials, and increasing production. Therefore, refractory concrete is a new type of refractory material with broad development prospects. Rongsheng refractory manufacturer has rich experience in the production and design of various unshaped refractory materials. Provides high-quality, long-life refractory lining materials for a variety of furnace types. Rongsheng refractory manufacturer will become your best choice for purchasing unshaped refractory materials.