SiC low-cement castables are a type of refractory castables with SiC as the main raw material and calcium aluminate cement as the binder. Low Cement Silicon Carbide Castable (Al2O3 48%, SiC 30%). SiC in low-cement castables can form a silicon oxide protective film on the surface of air with high oxygen partial pressure, which has excellent durability and can be used as a high-temperature structural material. However, silicon carbide-containing refractory materials used below 1550°C use the property of silicon carbide to continuously oxidize under low oxygen partial pressure. Rongsheng refractory castable manufacturer has built an environmentally friendly fully automatic monolithic refractory production line with an annual output of 80,000 tons. Specially provide high-quality monolithic refractory castable products for high-temperature industrial furnaces, including low-cement castables, low-cement silicon carbide castables, steel and castables, wear-resistant castables, etc.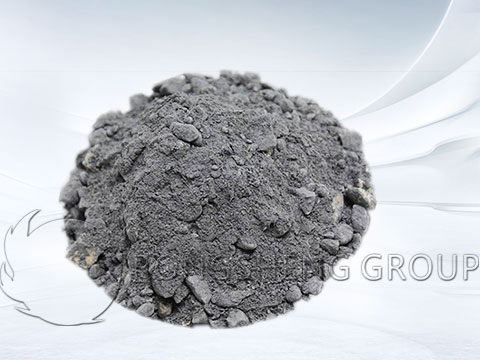 Low Cement Silicon Carbide Castable Features
Low cement SIC refractory castables are characterized by low linear expansion coefficient, high thermal conductivity, high strength, and good wear resistance. It has been widely used in thermal equipment such as power generation boilers, non-ferrous metallurgical furnaces, and incinerators, with good results.
Low cement castables are mainly divided into vibration type and self-flowing type. Among them, the ingredients of vibrating low cement castables are 60%~70% of the refractory aggregate. The refractory powder is 18%~22%, calcium aluminate cement is 3%~7%, and silica micro-powder is 3%~6%. The ingredient composition of the self-flowing low-cement castable is similar to the former, but the difference is reflected in the particle size and fine powder content. Generally speaking, too much micro powder will affect the physical properties of the castable, and the content of micro-powder is 5%~6%.
The main properties of low cement silicon carbide castables are 85% sic, 25g/cm3 dry volume density at 110°C, and 45Mpa and 9Mpa compressive strength and flexural strength respectively. The line change after burning at 1100°C is -0.2%, and the heat resistance and flexural strength are 107Mpa and 24Mpa respectively. After burning at 1450℃, the line change is +0.3%, and the compressive strength and bending strength are 130Mpa and 54Mpa respectively. The thermal conductivity at 400°C is 12.2W(M.K).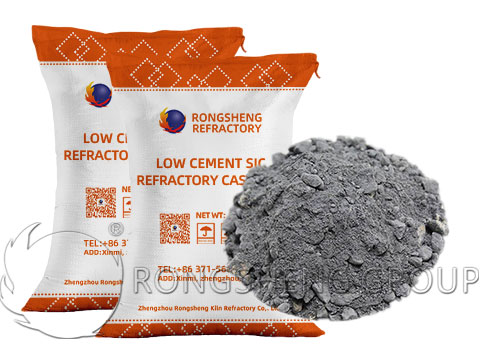 Improve the performance of Low Cement Silicon Carbide Castable
Low cement sic castables are used for silicon carbide with sic greater than 97% as refractory aggregate and powder. Low Cement Silicon Carbide Castable (Al2O3 48%, SiC 30%). Add sio2 superfine powder and metal silicon antioxidant. Use ca-70 cement as a binder and add polyphosphate water reducer.
However, for the production of silicon carbide-containing low-cement castables, there are also the following problems. 1. Hydrophobicity. Silicon carbide in the castable will affect the fluidity and construction performance of the castable and reduce its density. 2. Not easy to sinter. When silicon carbide with higher purity is used, it is not easy to obtain high strength because silicon carbide is difficult to sinter.
Since the hydrophobicity of silicon carbide will have a negative impact on fluidity, in order to improve the fluidity of refractory castables, it is necessary to select raw materials that have little impact on fluidity for production. For example, the fluidity of low-cement castables can be effectively improved by changing the shape of raw material particles and adjusting the type of water-reducing agent.
It should be noted that the advantages of low cement castables are many. Therefore, construction must be strictly in accordance with the manufacturer's construction standards to ensure the performance of low-cement castables. To purchase high-quality low-cement refractory castables, and low-cement silicon carbide castables (Al2O3 48%, SiC 30%), please contact the manufacturer of Rongsheng monolithic refractory castables. Get samples and price information for free, and have the opportunity to get solutions for refractory castable linings for free.