Over the years, tabular corundum has been widely used in high-performance refractories for steel, casting, petrochemical, and ceramics. Tabular corundum has become the dominant synthetic high-purity alumina aggregate due to its high refractoriness, excellent thermal shock resistance, creep resistance, and wear resistance. In the iron and steel industry, the introduction of continuous casting has steadily increased the proportion of monolithic refractories (Tabular Alumina Refractory Castable). In order to meet the production needs of high-quality steel, it provides the guarantee of refractory lining.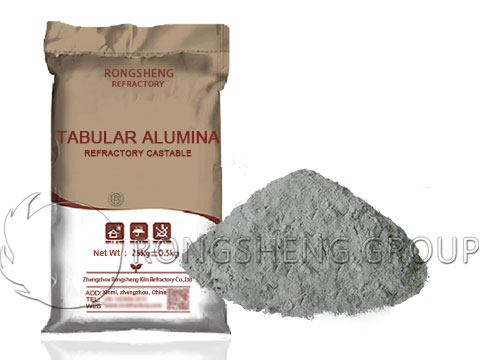 Tabular Alumina Refractory Castable
The Tabular Alumina Refractory Castable is mainly made of high-alumina, corundum, and mullite as the main materials, and high-temperature inorganic liquid as the binder, which is formed by stirring and extruding. The ramming method is used during construction. The material has the characteristics of good plasticity, stable thermal shock resistance, and wear resistance.
Properties of Tabular Alumina Refractory Castable
Tabular corundum is dense, fully contracted, and sintered a-A1203, with an aggregate structure of 50-400 μm grains. Tabular corundum gets its name because its grains are shaped like plates. The ultrafine a-Al2O is quickly calcined at a temperature slightly lower than the melting temperature; the pellets are used to prepare tabular corundum. After heat treatment, crush or grind 18-20mm pellets to obtain tabular corundum of various sizes. From the point of view of the chemical composition of tabular corundum, high purity is very important. It is a typical case where the alumina content is greater than 99.4%.
Because the plate-shaped corundum is a pure sintered corundum that does not add any additives such as MgO, B2O3, etc., it is completely fired and shrinks. It has a coarse, well-developed α-Al2O3 crystal structure. The slab-like crystal structure has small pores and many closed pores, and the porosity is roughly equivalent to that of fused corundum. High purity, good volume stability, minimal reheat shrinkage. After high-temperature treatment, the refractory or castable used for production has good thermal shock stability and bending strength. But the price is higher than the other alumina.
Therefore, the refractory castable based on tabular corundum inherits the excellent performance of tabular corundum. Therefore, the Tabular Alumina Refractory Castable has good heating volume stability and good thermal shock resistance.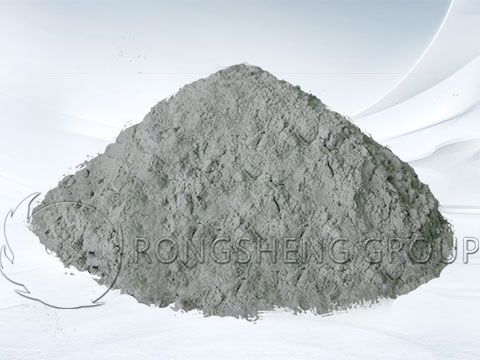 Application of Tabular Alumina Refractory Castable
Plate corundum is an ideal refractory raw material, which can be used as aggregate in various aluminum refractory materials and can also be added to other aluminas unshaped refractory materials. Any part where fused corundum or white corundum is used can be replaced by plate corundum, and the properties of refractory materials can be improved.
The properties of tabular corundum have many applications in the field of refractories. Mainly used in the steel industry. Tabular corundum is an ideal material containing 90-100% alumina for high alumina bricks and amorphous linings. Therefore, the tabular corundum is added to the refractory castable, which also improves the quality of the refractory castable. The Tabular Alumina Refractory Castable prepared by this is often used in places where the use conditions are more severe.
Tabular corundum is suitable for ceramic, chemical, and water-bound substrates. Tabular corundum can be used alone and in combination, or it can be used with calcined and or activated alumina. Because tabular corundum, even as a fine powder, exhibits extremely high purity, it can be used to improve the properties of lower alumina aggregates. The consumption of tabular corundum refractories mainly comes from the continuous casting of steel. Especially for skateboards, dip pipes, and nozzles, the use of plate corundum is a requirement of industry standards.
The new water-binding system enables the refractory industry to use alumina castables where cement-binding systems cannot show optimal performance. It proves once again that tabular corundum can be flexibly applied in many different fields.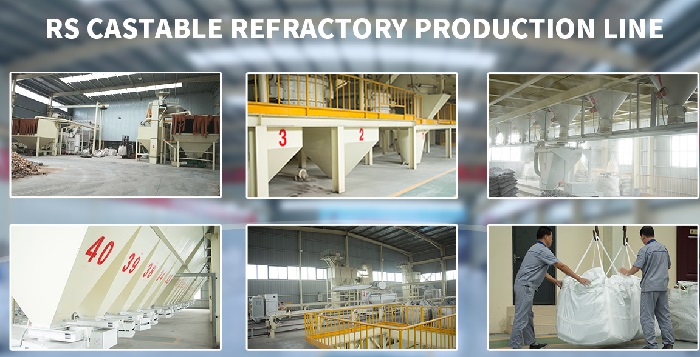 Rongsheng Refractory Castable Manufacturer
Rongsheng is an experienced refractory manufacturer. Has served customers in more than 60 countries. For example, India, Pakistan, Kuwait, South Africa, Malaysia, Vietnam, Netherlands, Philippines, Singapore, Egypt, Russia, etc. The unshaped refractory production line newly constructed by Rongsheng has an annual output of 80,000 tons. If you need to buy high-quality refractory castable products, such as high-strength and wear-resistant castable, tabular corundum castables, corundum castable, please contact us. We will provide you with services according to your specific needs.